SECONDARY VERIFICATION
BEACON TRACKER SYSTEM
FOR HORIZONTAL DIRECTIONAL DRILLING
The Beacon Tracker System provides secondary verification for magnetic and gyro HDD surveys when drilling under obstacles where a ParaTrack2 wire coil cannot be placed.
Designed to work in conjunction with the entire selection of ParaTrack tools, the Beacon Tracker provides an external reference for verification of sub-surface location without the need to lay and survey a surface coil, yet works at considerably deeper depths than walk-over systems, providing an additional margin of safety prior to punch-out with minimal setup time. The Beacon Tracker is flexible in its positioning, able to be placed away from the center line of the bore for ease of setup.
Available in two sizes, the smaller unit being lightweight enough to be carried by hand with an easy to set up tripod system for leveling and all-day operation from a standard automotive battery. Range is up to 300' radially. The larger unit is functionally identical to the standard Beacon, but stretches the range up to 600' for the most challenging projects. The Beacon Tracker System is yet another innovation stretching the boundaries of what is possible from the engineers and scientists at Vector Magnetics.
Benefits
Provides an external reference without need for surface wires


Lightweight and portable with all-day operation from a small battery
---
Applications
Shore departure and approach

Any project where surface wires are not suitable
Beacon Tracker System Information Sheet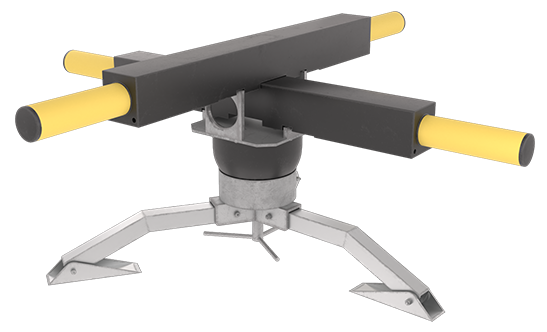 | | |
| --- | --- |
| Solenoid Length: | 49 inches (2 per system) |
| Solenoid Weight: | 67lbs. (2 per system) |
| Input Voltage: | 12 VDC, 7 amps (typical small automotive type battery) |
| Maximum Range: | 300 ft. |
| Precision: | Away, Elevation, Right +/- 2% of BTS to Steering Tool distance |
| Drilling Azimuth Determination: | (Relative to solenoid axis): +/- 1° |
| Survey Time: | 20 Seconds |
CASES USING THE BEACON TRACKER SYSTEM